Welcome to the


THIS REMOTE SPOT IN THE UNIVERSE IS FOR THOSE INTERESTED IN SPACE MEMORABILIA.
I STARTED COLLECTING TOY ROBOTS FIRST. IT THEN PROGRESSED INTO SPACESHIPS, ROCKETS, BANKS, GLASSWARE, BOARD GAMES, ETC., ETC...YOU GET THE IDEA. I WAS SURPRISED BY THE DIFFERENT CATEGORIES OF PRODUCTS PRODUCED RELATING TO SPACE. NOT JUST TOYS BUT MAINSTREAM ITEMS LIKE LIGHTERS, DISHES, CUPS, DECANTERS AND OTHERS.
SELECT A LINK TO SAMPLE THE WORLD OF SPACE COLLECTING.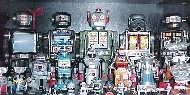 COMMENTS? PLEASE CLICK ABOVE
Copyright � 2000/2008 by Dfinnegan.com. All rights reserved. No part of this may be reproduced or used without written permission from the copyright holder
Revised: Feb 17 2008